Website Development Company - Indore
Tuesday, 13 March 2018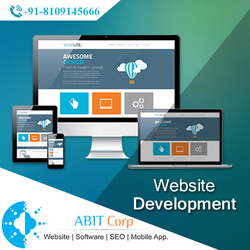 Item details
City:
Indore, Madhya Pradesh
Contacts

Nikhil bhandari

8109145666
Item description
ABIT CORP is a full service agency providing 24*7 Support & IT consultancy. We deliver outstanding results across Five key business areas:
Branding / Graphic Design
Website Designing and Development
Software / Customized ERP / CRM / Enquiry Management System
Digital Marketing - On Page / Off Page (Social Media / Email Marketing / Google Adwords or Adsence
Native Mobile App Development / Hybrid Mobile App Development for Android & iOS
Our skill lies in combining these disciplines to help our clients attract and engage customers.We founded our business with the aim of providing high quality digital design and development work for businesses with smaller budgets who are looking for BIG results. We're a dedicated team of professionals with large agency experience and business owners who understand the problems small or big businesses face.We offer a consultative approach to develop your brand from start to end.
Technology we work on HTML5, CSS3, Magento, Wordpress, Shopify, SAAS, PHP, Codeniter, Laravel, Angular js, node js.We have our own products for various industries like Ecommerce companies, Enquiry Saless management system, School management App, Cab application, matrimonial portal, News portal, Job Portal, Billing Software integrated with GST, Manufacturing ERP & CRM
We can help you increase your sales if any of the following apply:
Your website isn't optimised for mobile devices
Your web presence doesn't do your business justice
Potential customers are being picked up by your competitors
Existing customers aren't ordering as often as you'd like
You're getting a poor response from e-shots
You'd like to build your customer base but don't know where to advertise
You have litter or no Social Media Strategy in place
We'll start by providing you with a dedicated face-to-face consultant. They'll give you all the support you need throughout the process of planning, creating and managing a budgeted web strategy, to ensure you see tangible results fast.
You only get one chance to make a first impression. So getting your brand identity right is crucial to capturing the attention of your target audience. In fact you could argue that brands have to work even harder online, where potential customers can click away in seconds if they don't immediately like what they see.
ABIT CORP delivers professional and cost-effective digital marketing solutions that take full advantage of today's technology. Our fast, cost-effective and hassle-free marketing packages are geared towards targeting the right audiences for your business and hitting them with messaging that resonates. They're quick to implement and can revive your sales pipeline within weeks.