Website Designing Company | Matic Technology - Indore
Wednesday, 28 February 2018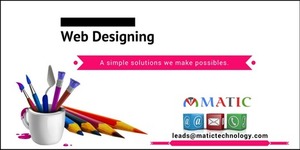 Item details
City:
Indore, Madhya Pradesh
Contacts

Matic Technology

0731-4900891
Item description
Web Designing is the most pivotal piece of the site since designing makes the fundamental face of the site which stays at the client's front. a customer has nothing to do with the database & development of the site they will be happy if he is having a proper route and UI which the prime assignment of a web designer.
Matic Technology follows a creative method of working, dispensing with unnecessary costs included, offering lower costs than other comparable Website Designing Company. we ensure that the greater part of our designs are Unique, Professional and engaging the focused on reviews with the goal that will enable the clients to get their business objective substantially speedier and site meets your business requirements.
Connect via: leads@matictechnology.com.
Please check out here for more details: httpwww.matictechnology.com/.