Pro-Sehat Soya Biscuit - Indore
Friday, 21 July 2017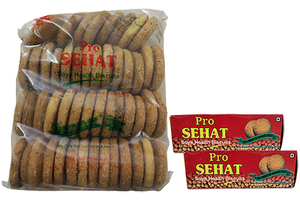 Item details
City:
Indore, Madhya Pradesh
Contacts

Manish Jajoo

7999109695
Item description
Pro-Sehat Soya Biscuit
Soya biscuits offer a perfect balance of supertaste and good health.
They have the best combination of nutrients including essential carbohydrates, protein and fiber.
Due to their high fiber content these biscuits are good for heart as well as digestive system.
These are excellent snack choice in place of unhealthy junk foods.
Soy protein improves mental and physical abilities of children along with improved memory level.
Pro-Sehat Soy Health Biscuits come in 100 gram and 500 gram packages.