Pro-Sehat Soya Nuggets/Badi - Indore
Friday, 21 July 2017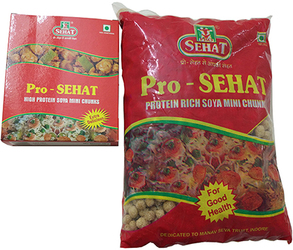 Item details
City:
Indore, Madhya Pradesh
Contacts

Manish Jajoo

7999109695
Item description
Pro-Sehat Soya Nuggets/Badi
Soya Nuggets are highly nutritional and protein rich food. Odorless and tasteless soya nuggets are an excellent addition to any dish in your daily diet. They can be used interchangeably with certain types of meat in various recipes. For those seeking to embark on a weight conscious vegetarian diet, or simply reap the benefits muscle building soy protein, nuggets are an excellent food item.
Nuggets are a proven healthy food for all age groups providing complete nutrition including vitamins, minerals, fiber and protein.
They contain high amount of fiber, it helps in losing weight as well.
Nuggets is one of the best vegetarian sources of essential omega-3 fatty acids, that can help in reducing the risk of coronary heart disease.
Soy protein can provide positive results for people with high blood pressure.
Soy protein has various benefits for the women, especially during the post-menopausal years.
Pro-Sehat Soy Nuggets come in 80 gram and 400 gram packages.